The Armitage Shanks 370mm Wide 1 RH Tap Hole Contour 21 Handrinse Basin - S247401 is specially designed for healthcare and commercial use. It features a durable construction with a smooth easy clean surface. The Contour 21 handrinse basin can be wall mounted and includes a tap hole for easy installation. Additionally, it has a deep rectangular bowl with a flat top and curved edges on the outside. The bottle trap, fixing kit and waste are sold separately.
Manufacturer Part Numbers
S247401
Features
Stylish modern basin
Made from Vitreous China
Includes pre-drilled tap hole
Mounting hardware, waste and tap not included
Ideal for commercial and domestic applications
Wall mounted design
Smooth curved edges
Designed for easy cleaning
Includes lifetime manufacturer's warranty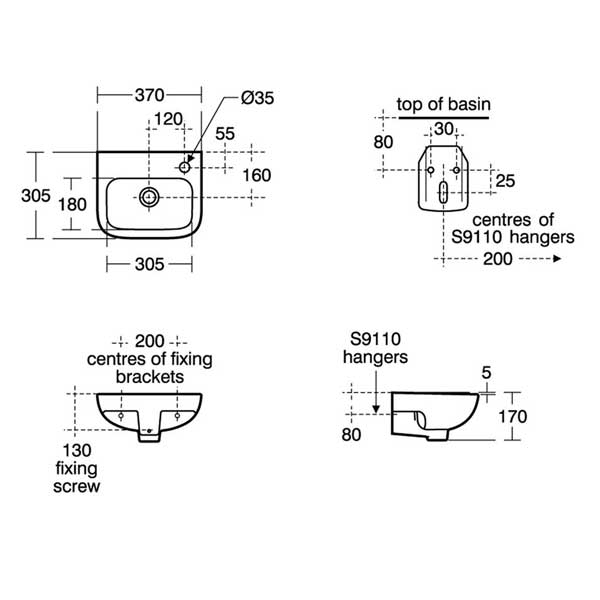 Delivery
You can find an estimated delivery time on every product page, you can find this below the ''In Stock''/''Available'' icons. Please note that these are estimated times and cannot be guaranteed. WE STRONGLY RECOMEND NOT BOOKING TRADESMEN UNITL YOU ARE IN RECIPT OF YOUR GOODS AND THEY HAVE BEEN CHECKED. All pallet deliveries are kerbside only. Please click here for our full delivery details.
Returns
If for any reason you no longer wish to keep your purchase, you must inform us in writing within 14 days of accepting delivery. If your order was delivered from our warehouse it will be your responsability to arrange the return of the item(s) and cover any and all costs. If your order was delivered directly by our suppliers, it will need to be collected by our suppliers. The collection fees vary from supplier to supplier. We will confirm the collection cost once the collection request has been made. Please see full return details. Please note - Any damages must be reported with 48 hours of recipt of delivery. We cannot send replacements for damaged items reported after 48 hours.